Our second anniversary
Aeonian has now entered its third year in business. After a flying start with its consultation offerings, we have commenced in offering state-of-the-art research antibodies. This is the first catalogue that offers exclusively antibodies with molecular integrity data by Coomassie-stained SDS-PAGE and selectivity data by protein array to direct customers. We are one of only a few to offer its products with one consistent formulation across the catalogue.
Why shopping with us?
For scientists who rely on robust antibodies, and who may spend months on end finding out which commercial antibodies are best for their objectives, we offer the place to shop meeting all possible concerns.  Our nascent catalogue represents a fraction of the thousands of clones we have access to. Any scientist who likes our style, are invited to discuss with us their needs. We are always happy to sign an NDA to keep their projects confidential.
No more worries about non-selective antibodies
When the protein of interest is a member of a highly conserved protein family, chances are that a monoclonal antibody against it cross-reacts with other related proteins because of shared epitopes. This can be addressed by checking cross-reactivity in a protein array.
For example, our HER2 (ERBB2) mouse monoclonal antibody AE00171 does not cross-react to HER1 (EGFR), HER3 and HER4.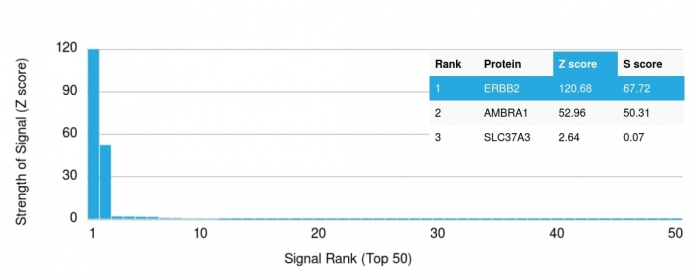 In this HuProtTM protein array (CDI), the proteins EGFR, HER3 and HER4 were present, but AE00171 showed no cross-reactivity with these proteins, while giving a strong signal to HER2 (ERBB2).
Likewise, our BCL2 recombinant rabbit monoclonal antibody AE00105 does not cross-react with closely related proteins BCL2L1, BCL2L2 and BAX. And our BCL6 recombinant mouse monoclonal antibody AE00106 does not cross-react to BCL6B. And the list goes on. Our products are tested in protein arrays to certify their selectivity.
No more worries about antibody's integrity, formulation and bulk pricing.
How many catalogues do you see with all its products accompanied with integrity data?
All our products show Coomassie-stained SDS-PAGE of purified IgG under reduced and non-reduced conditions to assess the molecular integrity of the antibody on offer.
All our products have been purified using either Protein A or Protein G (depending on isotype). Commercial assay developers need robust and intact product, free from carrier protein such as BSA, and offered against competing bulk pricing. We make sure to meet those requirements.